We are pleased to provide four Windows PCs with Internet access and Microsoft Office (Word, Excel, PowerPoint, Publisher) available for the public to utilize. There is no password require to use the computer. Computers are available for public use during regular business hours. Users must adhere to the Computer Use and Internet Access Policy found in the Technology Policy while using the library computers and wireless Internet connections.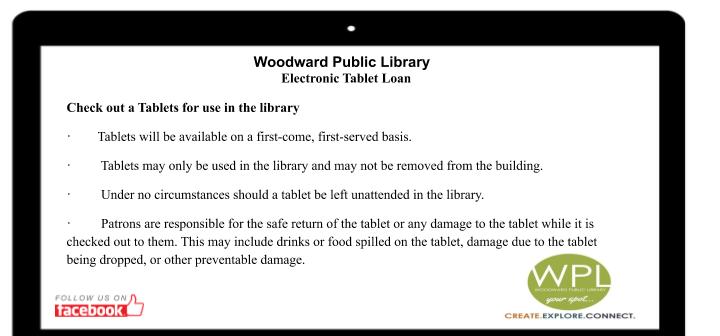 Printing
Printing and Copying Fees $0.15 / page
Scanning
Documents can be scanned on to a flash drive at no charge at the public printer/copier/scanner.
Printing From a Library Computer
Printing is available from any library computer.
Printing From Your Own Device
Please contact the library to inquire about this service.
Befuddled by technology? Ask for assistance with a Tech Tutor session. Tech Tutor sessions are provided by appointment only. We can provide assistance to help you build the skills you need to access and utilize technology based products and software. Or you can click on the purple Tutorials link to the right slider and see if a tutorial is available.
Tech Tutor sessions are intended for learning specific tasks that can be accomplished in one hour or less. The staff does reserve the right to determine if your technology needs can be met by our library. The library is not able to help with income tax, health insurance, credit reports, legal issues, or to do computer or hardware repairs. We appreciate your understanding. We can assist you with the tasks listed below.
Assistance for first time navigation of eReaders, tablets, or laptops
Assistance using any of the library's online resources
Basic word and spreadsheet processing software
Developing resumes
Setting up an email account
Understanding Facebook, Twitter, Pinterest, or other social media sites
Understanding Windows or other common operating systems
Using a keyboard and mouse