Adventure Pass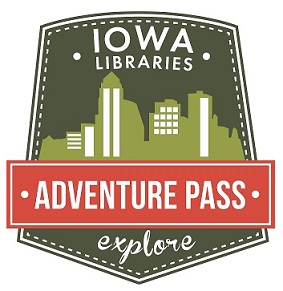 It will open a new window to Woodward Public Library. Change the display date to see more times available passes.
---
Iowa Libraries provide free passes to area attractions for a day of family fun!
Passes allow entrance for two (2) adults and two (2) children. Additional tickets can be purchased at the venue.
For the Woodward Public Library: Patrons 18 years of age and older, with a valid library card that is non-expired and in good standing may reserve passes the website by clicking on the Adventure Pass button.
Cardholder must present a valid photo ID and printed pass (email or phone not accepted) before admission into the venue is allowed.
One pass per venue may be reserved once every 365 days.
Passes cannot be used for any other special member events (e.g. Zoo Brew or Night Eyes).
Library memberships cover the Zoo admission costs for 2 adults and 2 children, we cannot allow 3 adults and 1 child or 4 adults. Children ages 2 and under are free at the Zoo.
Library patrons can check out the membership once a year to be used during a three-day period (Sun-Tues or Thur-Sat). This means they can utilize the membership 1 day during this three-day period.
The library passes cannot be used for: Night Eyes tickets, Zoo Brew tickets, discounts on Zoo rentals, discount on the Iowan and Iowa Outdoor magazines, or TRI Swap days at Living History Farms and Science Center of Iowa.
The Blank Park Zoo library membership can be used for: daily Zoo admission, Zoo member events, and discounts on experiences such as train, carousel, giraffe feeding, Safari Grill, Macaw Café, and WildThings Gift Shop.
A library patron who has checked out the Zoo Library membership must bring a confirmation form or email on their phone at the their visit.
We discourage families from checking out the Zoo Library membership from several different libraries as that defeats the purpose of the program. We are seeking to be accessible to several families and exposing to them what the Zoo has to offer, especially to those who are new to central Iowa or the surrounding counties. Our hope is that these families will enjoy their experience at the Zoo and consider joining as a member so they can visit an unlimited amount year-round, rather than just visiting once per year.
Please cancel you reservation if you cannot use the pass at the reserved time. to cancel a reservation, call the Woodward Public Library at (515) 438-2636.
Check open dates of any venue before you reserve your pass.